Big Afro Curls in the snow from Winter 2013
* Apologies for the blurring in and out… and the lighting. and the fan. it's all annoying. This video is ancient also. But you get the point.
Below is how the curlers look when they're in …& the tight ringlets after you take them out – you may choose to leave the ringlets intact for a cute Shirley Temple look 😉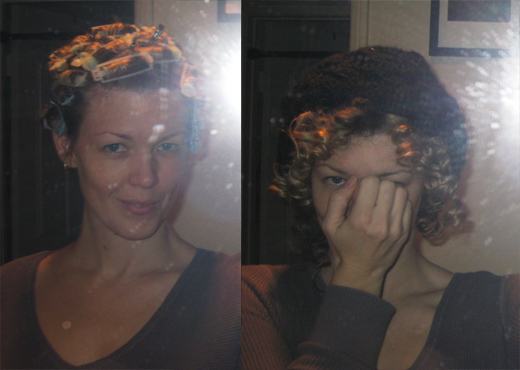 To get the afro, separate the curls with your fingers, one ringlet at a time. Do not use a brush. You can use a pick if you have one but I've found fingers do the trick quite well. After pulling & separating each ringlet, use your entire hands, fingers spread open, at the base of your head, to fluff from the root out. Continue separating curls until you like the look. It will get bigger over time, and fall a little.
. . . it's going to look something like this
More on Afro Curls…
* Click Here to see photos from Vintage Christmas Whim
* Click Here to see more photos & info of my big afro curls
* This is what it looks like when you use larger sections and on day two